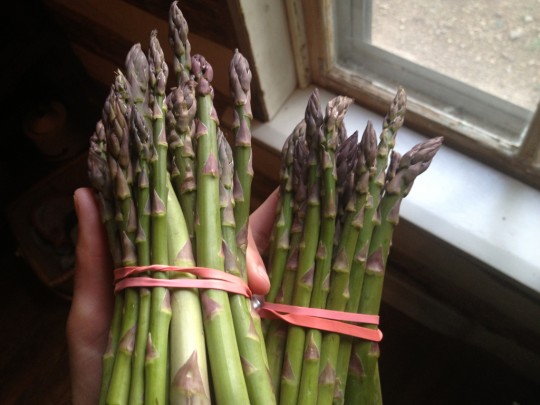 When Brad and I designed the WordPress theme for this website, I drew those little asparagus in the top corner to celebrate the season. It's hard to believe, but the asparagus have sprung again and an entire year has already passed since I started this blog.
Here on the farm I discovered wild chives growing all over the place just as the first asparagus arrived. I foraged (Yes, foraged! From right outside the farm house. Now that's some seriously local country food.) handfuls and paired the chives with asparagus in a wonderful Spring pasta with some Pecorino Romano cheese. That combination has been a favorite ever since. Here are a few ideas so you too can savor the season and get a whiff of asparagus pee.
Sauté them:
Use the asparagus whole with only the tough ends trimmed or snapped off. Roll them in a skillet with olive oil over a medium-high heat until they're bright green and tender but still a bit crisp (about 5 minutes). Toss in a pad of butter to melt, salt to taste and transfer them to a serving plate scattered with chives and a few shavings of Pecorino Romano cheese if you so desire. Deliciousness doesn't get much simpler.
Blanch them:
Cut the asparagus into 2-inch pieces and cook in salted, boiling water until just tender (about 2-3 minutes) then transfer them with a slotted spoon to an ice bath. Cook some pasta (any type of short noodle like penne or fussili), and toss with the asparagus, a few handfuls of minced chives, a generous cup or so of grated Pecorino Romano cheese and a glug of olive oil. Add a healthy grating of black pepper and some lemon zest and you're in business.
Roast them:
Cut your asparagus and some potatoes into 1-inch pieces. Toss them with some olive oil, salt and pepper and roast them at 450 degrees for about 20 minutes. Stir them once or twice, and when they're almost done, sprinkle some Pecorino Romano cheese over top and continue to roast for a few minutes more until the cheese is melted and golden. If you can hold back from finishing them off, you can toss the leftover asparagus and potatoes into your morning omelet or scrambled eggs with some chives.